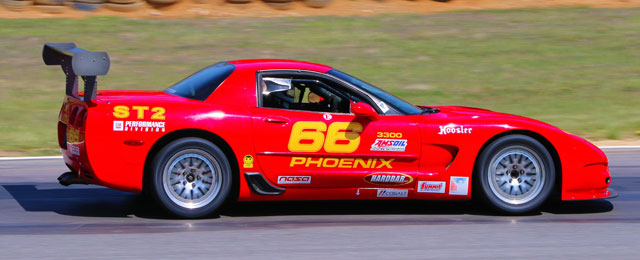 ©Photo Courtesy John Woolbright
The C66 Racing #66 Corvette at Turn 10 Summit Point Raceway, WV April 16, 2016.
C66 Racing LLC
- 2014-16 NASA Mid-Atlantic Region ST2 Class Champion
- 2012 SCCA MARRS T1 Class Champion
- 2004 SCCA Midwest Division T1 Class Champion
C66 Racing is a family owned grassroots racing team located in King George, Virginia. The team raced a 2002 Chevrolet Corvette Z06 in the Touring One (T1) and Touring Two (T2) classes of the Sports Car Club of America (SCCA) from 2003-2013. Due to continuing SCCA rules changes, in 2014 the team opted to switch to the National Auto Sport Association (NASA) Super Touring Two (ST2) class, racing in the NASA Mid-Atlantic Region.
Tentative 2022 Events:
- Schedule to be determined
Links: