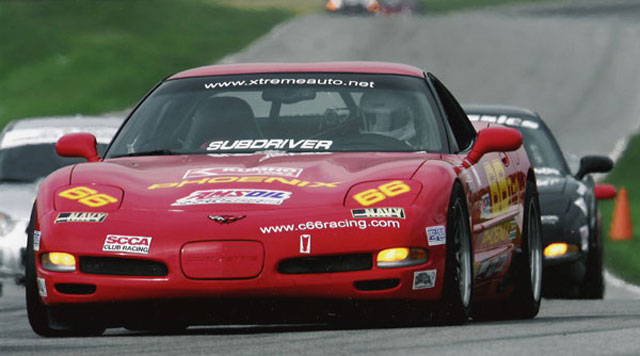 Brad Neff October, 2004 - The Good in People
The below is my rather lengthy summary of my experience at the 2004 SCCA National Championship Runoffs. As you read it, please note the numerous generous offers I received prior to and at the Runoffs. These examples of goodwill provide a wonderful counterpoint to the gloomy news we are normally subjected to, and made the week one of the most memorable in my life.
Prelude:
On August 14-15th, after achieving my primary goal for 2004, winning the SCCA Midwest Division T1 championship, something I wanted to accomplish before I roll back onto sea duty next year, I headed to Mid-Ohio to participate in the National races to get some more seat time on the track which would be host to the 2004 SCCA National Championship Runoffs. During the race, it was clear my car was down on horsepower to several of my competitors who had just put in brand new 04 crate motors in preparation for the Runoffs.
Not having the money to go buy a new motor, I took my car to my brother-in-law's garagemahal in Norfolk, where he tested the motor and found 20% leakdown on cylinders 2 and 8. We decided to remove the motor, put in new rings and a new timing chain as a precaution, and had a valve job done on it. We also tested the springs and checked all other internal components.
Wednesday, Sept 15th
The Gift
The day before I left for the Runoffs, I was contacted by a person I had never met, never even talked to, but who had been reading my posts on several Corvette Forums on T1 racing last year and this. He offered me $500 to help with my expenses for the Runoffs. Remarkably, a few hours later, he upped the offer to $1000 when another T1 driver whom he had made the same offer to told him to give all the money to me. Taking a look at my bank account which had $1300 in it, and realizing the costs associated with the race, I swallowed my pride and took him up on the offer. Probably not surprisingly, both he and the other T1 driver wish to remain anonymous. I pass my most sincere appreciation to both.
Thursday, Sept 16th – Friday, Sept 17th
The Trip to Norfolk
My father flew in late in the afternoon to drive with me to pick up my car in Norfolk.
Arriving home from the airport to pack what little I had with me, my wife handed me a check for $1000 that had come in next day air, asking where that had come from. Not only had my benefactor offered me $1000, but he had taken the time to next day air it so I had it in time to cover my expenses. Amazing. After explaining to my wife that this wasn't a bribe, a gambling debt being paid off or any other illegitimate source of funding, I deposited the check in my bank. I think the money accelerated when it hit my account…
My dad and I originally planned to head to Norfolk early Friday after a good night's sleep. With Hurricane Ivan rolling up the Appalachians, we decided to hit the road that evening with the intention of getting ahead of the Hurricane. I don't think we made it.
Battling very high winds and hellish rain, we made about 600 miles that night before stopping somewhere in western Virginia. We read the next day that the stretch of freeway we had driven on between Knoxville and Bristol was hit with 10 inches of rain the night before. Thankfully, the F350 was a tank in the wind and rain and there weren't too many other maniacs on the road that night.
After sleeping six hours, picking up Bacon, Egg and Cheese Bagel number 1, we hit the road again to much better conditions and easily rolled into Norfolk by early afternoon.
Friday, Sept 17th – Saturday, Sept 18th
Car Preps
After arriving in Norfolk, my dad and I helped my brother-in-law make the final steps to the engine installation and we fired up the car on Friday evening with no leaks, no codes and no faults, but an exhaust gasket leak.
Removing the exhaust headers, we realized the gaskets provided by the local Chevy dealership were for headers, not the stock manifold and didn't have the covering for the EGR pipes. Unfortunately no gaskets were available in Norfolk, and we could find no aftermarket gaskets. Running a nationwide parts check, we found two dealerships within 70 miles of Mid-Ohio that had the gaskets, unfortunately only one at each…
We gave up on the gaskets with the intention of fixing them at the track and spent the remainder of Saturday setting up the alignment for the Runoffs based on my experience at Mid-Ohio the month before. We set camber, caster, and toe as well as a 50-50 corner weight based on half race weight load. When I was happy with the suspension, we loaded the truck and trailer for the trip to Mid-Ohio.
Wanting to stay at the track, we rented an RV from a local dealer who delivered the RV to the track for us on Saturday. Fellow competitor Ed Amonson, who we had paddocked with last year, arrived at the track days before us and was kind enough to pick up our RV and park it in a nice spot very near the Phoenix team.
Sunday, Sept 19th
The Paddock
Hitting the road to Mid-Ohio before sunrise, and picking up Bacon, Egg and Cheese Bagel number 2, my dad, brother-in-law and I had an uneventful trip, arriving at Mid-Ohio at about 5pm.
After signing in, we headed into a sea of motorhomes, trailers and cars, over 800 entries, an SCCA Runoffs record, trying to find our RV. Calling Ed, we found out the security forces, who might be vying for a position with the Department of Homeland Security given their absolute control over the paddocks spaces, had forced Ed to move our RV as we weren't there yet. Not to be deterred, Ed snuck it into another spot near him, but unfortunately the ground wasn't very level there and I was worried about putting the Vette on jackstands on uneven ground. So we started trecking towards the back 40 to find an open, flat spot of land. Halfway up the hill, we stumbled upon an open lane, somehow left vacant by the security staff. Realizing it was right next to fellow Midwest Division T1 driver Chris Brannon, we had what we were looking for. Quickly checking with Chris and several other competitors to make sure we would be stepping on anyone's toes, we nestled our RV, my pickup and trailer into the spot, unloaded the vette and set it up right next to Chris' Vette. Beautiful.
After setting up, we walked around and talked to as many T1 teams as possible looking for manifold gaskets. Phoenix came up with one and gladly handed it to us, but we couldn't find a second.
Monday, Sept 20th
Practice Day (Challenges)
Leaving my brother-in-law behind to start work removing the manifolds and replacing the one gasket we have, my dad and I hit the road for the local Chevy dealership at 7:30 am… Bacon, Egg and Cheese Bagel number 3. Making a final local check of parts, they confirmed the nearest gasket is about an hour away. We ordered two gaskets from them to repay Phoenix, drive to the other dealer, picked up the gasket and returned to the track by 11:00am. By 1:00pm, my brother-in-law had both gaskets replaced and we made final preparations for the 2:25 practice session.
Lining up on the pre-grid, I was very excited about my prospects for the week. Heading out onto the track, my spirits ran even higher. The engine felt strong with the new rings and the valve job. The balance of the car was perfectly to my liking, a slight low speed understeer and very neutral in the high speed turns. The new Kumho V710s gripped very well, while "talking" to me as they approached their limits. On my second lap, I turned a 1:37.0, equal to my fastest lap there all of last year and I was not even remotely beginning to push it. As my father called my lap time to me as I passed down the pit straight, I cleared slower traffic. Deciding the car felt great, I began to start dialing up the speed. However, as I headed up to the Keyhole, I began to smell smoke. Thinking it may be fumes burning off the exhaust from the engine replacement, I checked my gauges and all was well. Heading down the back straight, the cockpit started to visibly fill with a light smoke. Checking the gauges again with everything still normal, I noted smoke in my rear view mirrors. Not wanting to chance a fire, I pull off at a corner worker stand in the "esses" and turned the motor off.
One of the many dedicated SCCA volunteer workers ran over with an extinguisher and gave my car the once over. No smoke, no fire, no leaks. I decided to fire it up and limp back to the pits. The car started fine with all gauges reading normal, but with a definite smoke trail still following the car. Thinking I probably had a minor leak of some sort and trying to stay off the racing line, I slowly brought the car back to the pits. As I approached the pits, the steering got heavier and heavier. Wondering if I had a power steering leak, I muscled the car into the pits. Just before I shut it down however, oil pressure plummeted, dropping to 10 psi.
A quick check under the hood didn't reveal anything specific, but oil was definitely leaking from someplace as the front half of the motor was covered with a sheen of light fluid. Not knowing what was wrong, we decided to have the car towed to my paddock. Unfortunately, the SCCA diverts our tow into the tech shed for a post-practice session check of several items. Having to have my car pushed into the tech shed was embarrassing to say the least…
Thinking we either had a power steering leak, or a bad power steering pump, but with the low oil pressure still nagging at me, we verified that the car had no fault codes, and fired it up to try to pinpoint what was wrong. My brother-in-law almost immediately gave me the kill signal, then showed me what was wrong. The main bolt in the crankshaft that holds the harmonic balancer (the main serpentine belt pulley) on had come out all the way and backed up against the power steering rack. The pulley itself was warbling around on the front of the crankshaft, bouncing off the subframe and probably a few other things.
Fellow Midwest Division T1 competitor Mike McGinley and his mechanic Jeff towed us to our pits with their "golf cart" pit vehicle. Third time my car has had to be towed, and the second by Jeff who also helped me out earlier this year after a timing chain failure.
While my brother-in-law started the process to remove the power steering rack (which essentially requires splitting the lower suspension ball joint then dropping the front of the whole front subassembly to pull the rack out of a wheel well), I walked over to Phoenix to seek advice.
Again, Phoenix came to my rescue, handing me the puller (didn't need that as my balancer had found its own way off), a press on tool, a new balancer, and the seal that goes behind the balancer.
Calling the local Chevy dealership, whom I was now on a first name basis with, I ordered Phoenix a new seal and balancer to repay them.
As darkness approached, my brother-in-law had the power steering rack out and we attempted to put on the new balancer, but were totally unsuccessful. The crankshaft was too badly scored from the beating it took from the old balancer bouncing around on it for the new one to slip on.
We called it a night.
My practice time of 1:37.0 was 16th fastest of the day. Given that it occurred on only my second lap of practice, despite the balancer problem, I was still pretty optimistic about my chances for the week. That would change quickly.
Tuesday, Sept 21st
Qualifying Day One (or not)
As my brother-in-law set off to clean up the crankshaft, my dad and I hit the road to the local Chevy dealership to pick up the replacement parts we had ordered to replace those borrowed from Phoenix… Bacon, Egg and Cheese Bagel number 4. In addition to the payback manifold gaskets, seal, and balancer, we also picked up a new belt, Emory cloth and some fine grit sand paper to help clean up the crankshaft.
Returning to the track, we found my brother-in-law having a really hard time cleaning up the crankshaft. In addition, in the light, he could see the seal behind the crankshaft was pretty badly beat up, and we suspected all the oil we had on the front of the motor had come from this seal. This also explained the drop in oil pressure I had just before turning off the car.
Telling by brother-in-law to take his time, Tuesday's qualifying was paired with T2 and not likely to produce any really fast times, I headed off to talk to other T1 competitors. I found three who had had the harmonic balancer bolt come out after taking apart the motor. Apparently the lesson learned is to use red locktite on this bolt, which isn't called out for in the service manual so my brother-in-law hadn't done this when he put the motor back together.
By late Tuesday evening, my brother-in-law had the new seal in, new balancer on and the car put back together. We held off on starting it due to darkness and called it another night.
Wednesday, Sept 22nd
Qualifying Day Two (Bigger Challenges)
With qualifying at 9:25am, we got up at first light and fired up the car. It started fine, with no leaks, no codes, no faults, but the balancer seemed to have a vibration to it that we were very worried about. In hindsight, we were right and I should have made the decision to not run the motor any more.
As we headed out onto the track for qualifying, I took it very gingerly to monitor things for a lap or two. As I headed up the first straight towards the keyhole, oil pressure dropped from 60 psi to 40 psi. Another clue to park it missed.
Not feeling good about the oil pressure, I pulled into the pits without having completed a lap. As I pulled into the pits, oil pressure plummeted to 17 psi, but after minute returned to 40 psi and stayed there. Knowing I hadn't even completed one lap, and with oil pressure remaining steady at 40 psi, we decided to attempt anther lap and monitor oil pressure. Bad move.
Despite being very delicate with rpms, oil pressure stayed at 40 psi for only about two turns, then started to drop, 35 psi, 30 psi, 25 psi, 20 psi… thinking 7 psi per 1000 rpms was the spec, and that I could still milk it back to the pits, the motor let go as I approached turn 13, one turn from the pits.
Important safety tip: there is apparently not a lot of safety margin in 7 psi per 1000 rpms for an LS6 motor.
Again, I tried to stay offline, but I'm sure I dropped oil in the braking zone to 13 and as soon as I turned in, I spun off track in my own oil and came to a stop with a dead motor just off the track, facing oncoming traffic at one of the fastest turns on the track… not good.
Realizing my fear, one of the first cars over the crest was David Pintaric who was terribly sideways and headed directly my way. Definitely not good. He managed to hold it long enough to spin past me, missing me by about six feet or so. Way too close for comfort with a closing speed of something like 80 mph.
Somehow, probably due to the oil flag the SCCA corner workers promptly displayed and the talent of my competitors, no one else spun and I survived the session without further damage.
My first thought was for my wife, daughters and father-in-law who had hit the road for Mid-Ohio from Memphis not a half an hour earlier, and my sister-in-law and nephew who had similarly just hit the road from Norfolk. Calling my dad on the radio, I asked him to call them both and send them home. My week seemed done.
After seeing my car loaded on a flatbed trailer and dropped off at my pits, I sat dejectedly in my paddock trying to mentally come to terms with losing my 2nd motor. Not 10 minutes later, David Pintaric rolls into my paddock, declaring "Brad, we need to talk…" Seeing the writing on the wall, I immediately say "No" before he has even started talking, but David was having none of it. Explaining that he was going to buy a new motor anyways, it wouldn't cost him any more to buy the motor now and "loan" it to me for a few days. Dismissing the financial implications for a few minutes, David, my brother-in-law and I talked logistics. 1st, could we find a motor. 2nd, could we find a shop. 3rd, did we have the tools. 4th, did we have the time. 5th, would the SCCA allow me to start without qualifying. It just all seemed so implausible that there would be no harm looking into it.
First stop, our good friends at Phoenix Performance to see if they knew where we could find a motor. It turned out to be a short stop. Joe pointed to his pickup truck and said they had a brand new 04 crate motor, leakdown checked and ready to go, and of course he would sell it to us. Mmmm…
Second stop, a shop. David heads over to the team that supports him at the track, Kryder Racing. They had a fully outfitted race shop about 70 miles away. Sandy Krdyer said not only could we use it, she would take us there and open it up for us and show us everything. Mmmm…
With a motor and a shop readily available, I went back to my brother-in-law to ask him if he thought this was really possible. After thinking about it for all of 10 seconds, he responded 12 hours out and 12 hours in, no problem. Any special tools needed? Only one, a spline shaft to align the driveshaft splines with the clutch splines. Back to Phoenix. Of course they had one. Tools and time available were not issues...
Finally a quick trip down to the Chief Steward to explain my situation. On the way there, I bump into fellow T1 competitor Jeff Robbins who had a spare Z06 with him. Almost unbelievably, he offered to let me use it for the race. After mulling it over, I thanked him and let him know I'd feel more comfortable in my car, and set off to find the Chief Steward. After a quick check of timing and scoring, the Chief Steward noted I had in fact qualified with a 6:14. Despite not having completed one lap on the track, I had crossed the transponder loop in the pits to achieve my stellar time. Asking him about the 120% rule, which states that any qualifying time over 120% slower than the pole may not be allowed to start, he said based on my practice time from Monday, he would guarantee I could start.
No more hurdles to overcome…
As I headed back up to my paddock, I thought, what the hell. Would make a good story, even if we didn't make it. I stopped by Kryder Racing and told David and Sandy I'd be happy to take them up on their offer.
We made a quick call to my wife and sister-in-law, telling them both that maybe it wasn't over, maybe it was. Who knew. We put the ball in their court as to whether to risk the long drives to Mid-Ohio. They both came with family in tow.
As we loaded the car onto the trailer, David loaded the new motor in his pickup truck with the help of Phoenix, then grabbed Sandy and led us to Kryder Racing.
Sandy was great. She essentially just handed us the keys to her shop, told us to use whatever we needed, gave us the all too important number to Domino's, wrote out directions to the local AutoZone for any consumables we might need, and asked us to lock up when we came back.
By midnight, my brother-in-law, dad and I had the old motor out, oil lines and intake flushed and the new motor in and bolted to the subassembly, and we decided to sneak off for a few hours of sleep.
Thursday, Sept 23rd
Qualifying Day Three
Well before first light, we got up and headed back to the shop. Bacon, Egg and Cheese Bagel number 5.
By noon, the car was back together, all fluids replaced, new brake rotors and Carbotech pads installed for the race, the alignment checked and it was ready to test. Always amazed that the car runs after such major surgery, I turned the key and it started up and ran great, again with no faults, no leaks, and no codes.
Taking it out for a quick test, race tires and all (but DOT legal and the car is licensed and insured), I checked out everything and bedded in the brakes. All good.
I went back to the shop for a last check, let the brakes cool off for 30 minutes, then drove the car the 70 miles back to the track. Although we had missed the 9:50am qualifying, the car felt great and despite the fact that I was exhausted, once again, I felt pretty good about things.
Friday, Sept 24th
Race Day
9:50 am, morning warmup. A ten minute test session to make final checks of cars. For me, the first real opportunity all week to get in a couple laps. I wondered if I could get in more than three trips around the track.
Heading out, everything was great… and for a change, it stayed that way. The motor felt strong, temps were good, oil pressure good, the car's handling was still exceptional. Although the SCCA frowns on running at full race speeds in the morning warmup, I went fast enough for three laps to know everything was finally working.
The Race:
Taking my dead last spot on the grid, I was faced with a fantastic view. 31 entrants. 27 of them Vettes. Freddy Baker's Porsche GT3 sat second on the grid, right behind John Heinricy. But just in front of me was Cheyne Daggett in his Ford SVT Cobra, Chuck Hemmingson in his Subaru WRX STi, and Mark Boden in his Porsche GT3. Yeehaw… let the fun begin.
As the 1 minute signal was given, the SPEED channel commentators came directly in front of my car and said who knows what, but I suspect David played a roll.
We didn't get a green the 1st time by the starter. Pretty sure it wasn't because of me sitting dead last...
Even with the race starting on the back straight, I was so far back from the leaders that I was still in the Keyhole when the green flag fell on the 2nd lap. Despite my dad calling the green for me, I couldn't get that great a jump as I was in a corner and behind Natha Walbaum and beside Cheyne in his SVT Cobra. But I came out of the turn hard, pulling Cheyne and carefully passing Natha as we entered turn 7.
We went two by two for at least the next three corners and when I settled out, I was ahead of my paddock mate Chris Brannon. 27th after the first race lap.
The next lap brought the first attrition as hard charger Jeff Robbins went flying, literally, into the keyhole, damaging Pete Looby's right rear tire. Jeff left the track, again, literally. Pete limped back into the pits. Ryan Snodgrass checked up and was hit by Jason Berkeley. Ryan spun off. Jason didn't know it, but he damaged one of his tires, left rear I think, and he spun off later in the race as the tire deflated.
I out pulled Chuck in the STi in Thunder Valley and completed lap 3 in 22nd.
Moving up in the field was much harder from that point forward as each car was progressively faster. It took me about three laps to get by Mark in his GT3. At Mid-Ohio, the GT3 was matched up very well with the Z06. I was clearly faster, but it wasn't in the places I could pass. He could get out of the slow speed corners better than me and I think his car was geared better as he pulled out a car length or two on the first half of each straight. I'd make up the difference in the second half the straight, but his GT3 was fantastic under braking. I finally dove inside him into turn 7 on lap 8.
On lap 12, I passed David on the back straight as he graciously waved me by. I felt almost as guilty passing David with his motor as I did taking the $1000 gift to start the week.
Eventually, I worked my way up to 16th spot, a position I was proud of after starting 31st.
If you've made it this far, thanks for reading. My experience at my 2nd Runoffs wasn't exactly how I planned it, but things rarely are. The week was extremely rewarding, maybe because of all the challenges we overcame just to start the race, and certainly due to all the good will we experienced along the way. The race was certainly "fun", but more importantly, I feel I achieved something, not only by qualifying for the race, but by starting and finishing it.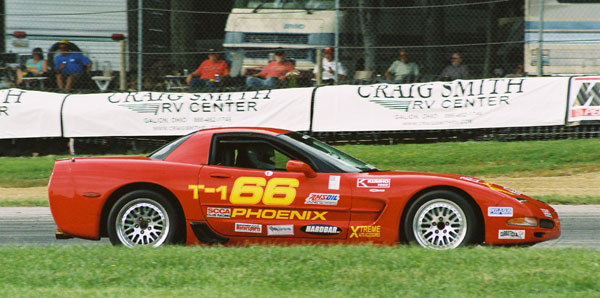 P.S. On the way home to Memphis, Bacon, Egg and Cheese Bagel number 6…