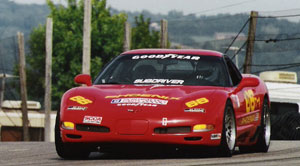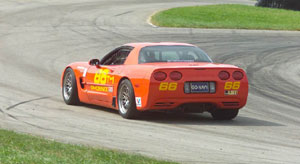 Brad Neff September 29, 2003 - Chasing a Dream
I decided to take advantage of shore duty (and an excellent credit rating), and chase my dream go racing with the SCCA this year.

Starting the year with a street stock 02 Z06 and a hastily obtained SCCA license based on decades old experience and a few drivers schools (Jim Russell and Skip Barber), I set a few objectives for the year:
1) Modify my car to make it legal in the SCCA Touring One (T1) class (major dent in credit rating).
2) Compete in four SCCA Regional races and earn my SCCA National license.
3) Compete in at least four SCCA National races, earning enough points to qualify for the SCCA's end of year championship: The SCCA Valvoline Runoffs.
4) Finish in the top ten in the Valvoline Runoffs in the T1 class.*

One new truck (Ford F350 turbo diesel), 13k miles of traveling, one new Corvette engine, and 14 races later, I met my goals (and am headed for bankruptcy).

SCCA Valvoline Runoffs Report

Sat Sept 13th, Travel Day:
With the car loaded on the trailer and the F350 stuffed with gear and supplies for a week, my wife, two daughters and I hit the road for Mid-Ohio… via Bowling Green and the Z06 Fest. After spending several hours and several hundred dollars at the National Corvette Museum, we continued on to Mid-Ohio.
As we drove over the crest of the last rolling hill of Mid-Ohio before the track, we were greeted with a vista of an absolute sea of motorhomes, trailers, race rigs, cars, etc. 716 total entrants for the 24 race classes, an SCCA record. Fortunately, we had a paddock spot saved for us by our friends at Phoenix Performance. At 8pm we snuck in and dropped off the car before heading for a motel and sleep.

Sun Sept 14th, Test Day:
Sunday was the last test day of the week and reserved for 170 cars. Unfortunately, I wasn't one of them. The big name, big dollar teams had been at Mid-Ohio the whole previous week testing and tuning. As a low budget, extremely busy amateur, I couldn't get up there in time to test or tune. With 170 cars testing Sunday at $375 per, I decided to spend the day making sure the car was ready.
Making a probably ill conceived last minute decision, I decided to depart from the suspension setup that had been on the car all year long to add more negative camber to the left side of the car by installing GM Performance Parts T1 camber plates to the lower a-arms on the drivers side. These plates, designed to work the with GM Performance Parts T1 anti-sway bars, leaf springs and shocks already on the car, are legal in T1 and would give me about an extra 0.5 degrees of camber for the two important right hand hairpins leading onto straights at Mid-Ohio.
Unfortunately, by doing this, I messed up front and rear toe-in and caster. Buying a toe-in gauge from one of the many vendors there, I readjusted my toe-in to the values recommended by Phoenix Performance. I gave up on caster, figuring it was close enough.

Mon Sept 15th, Practice Day:
The T1 class got one 20 minute practice session on Monday, but this session was combined with the T2 class, putting about 55 cars on the track and ensuring fast laps would be tough to find.
My goal was to test the hastily revised suspension setup, make sure the car ran straight, stopped straight, wasn't twitchy or darty, etc. I put on an old set of tires and an extremely used set of rotors and pads for the session, saving my new stuff for qualifying and the race. Heading out onto the track, I tucked in behind a couple T2 cars, a Mustang and a Camaro, and followed them around as I felt out the car. The car handled normally during the first two laps as we got up to speed and I was starting to build speed, learning the pro track configuration (kink before the Key Hole not used). On the start of the 3rd lap, the T2 Mustang in front of me lost it in turn one, spinning off the track to the outside and parked it in the gravel trap right at the edge of the track. With the Mustang in an extremely dangerous spot, the SCCA black flagged the session and sent out the tow trucks. 10 interminable minutes later, we got the green flag. Not two laps into the restarted session, the checker was out! Arrrggh!
Other than determining the car drove straight, I really didn't have a chance to tell if the revised suspension settings worked and I certainly didn't have time to find braking marks for the new entrance into the Key Hole.
Monday evening my father arrived from CA, renting a motorhome for our use. Having a motorhome, allowing us to stay at the track and socialize with the hundreds of other competitors, was much more enjoyable than living in a motel room all week.

Tue Sept 16th, Qualifying Day 1:
Tuesday afternoon the T1/T2 grouping went out for our first of three qualifying sessions. Wednesday morning the T1 cars would go out solo in the morning for our most important qualifying session as the forecast for Wednesday morning was cool and sunny. With Wednesday looking like the best opportunity to go fast, I used Tuesday's session to confirm my suspension settings, and put one heat cycle into a new set of Goodyear GS-CS tires. I coordinated with the Goodyear technicians to get a full set of tire temps and pressures about halfway into the session.
The session started well. I drove hard, but not 10/10ths as I continued to learn the pro-track configuration, and confirm the car handled properly. After about 8 laps I came in for tire temps. The Goodyear team poured over the car making me feel as if I was at a major World GT Challenge or ALMS series race. The temps came out extremely well (even across the tires, and between 200 and 210 degrees), indicating I was driving hard and the suspension setup was near ideal for the track.
Feeling good, I headed out for some hot laps. Not one half lap later, a T2 Camaro lost control under braking for turn seven, came across the track and smacked the inner wall fairly hard, bouncing back onto the track and immediately dumping radiator fluid all over the place. Another black flag. End of session. So much for hot laps. Best time 1:40.099, 15th of 23.

Wed Sept 17th, Qualifying Day 2:
As expected, Wednesday morning brought perfect conditions. With one heat cycle on my new Goodyear GS-CS tires, I felt I was in a good position to improve my qualifying times and position. Without the T2 cars on the track with us, the T1 cars hit the track fast and hard. Learning from the black flags of the two previous sessions, I set out to go as fast as possible as soon as possible. I was rewarded and pleased with a lap time almost three seconds a lap faster than the day before, and gained three spots on the grid. With a goal of a top ten finish, I felt I was well positioned to achieve that sitting 12th on the grid. I was also pretty pleased with this starting spot given the experience of most of the "amateur" drivers in front of me. Best time 1:37.178, 12th of 23.

Thur Sept 18th, Qualifying Day 3:
With Thurday's qualifying session in the afternoon and again combined with T2, I didn't expect to be able to better Wednesday's time. I also didn't want to join the growing ranks of cars that would not start the race (25 T1 cars paid to enter, 23 started and that was better than most classes). So, I went into the session in a conservative mode. I put on another set of new Goodyear GS-CS tires that I planned on using in the race to get one heat cycle in them. I also put on new rotors and brake pads front and rear to bed them in. The session went has I expected. None of the top 15 drivers were able to better their Wednesday times so I would start 12th, well positioned for a top ten finish – if I could make it through the first lap…

Friday Sept 19th, Off Day:
Friday was a day off for T1 competitors, but it was race day for the first eight race groups.
I used the day for last minute pre-race preps: engine oil change, differential oil change, anti-sway bar bushing greasing, suspension nut and bolt check, empty race weight check, etc.
Then I set off to turns 7 and 8 to watch the races. Probably not a good idea. With a one race, winner take all format, and full fields of highly talented and motivated drivers, the starts of most of the races weren't very pretty, especially the T2 race, the class nearest to T1 in type of car and allowed modifications.
I spent most of Friday night dreaming about Corvettes spinning in front of me.

Sat Sept 20th, Race Day:
After a short morning session to check the car, tires, brakes, etc. I fueled the car and waited for our afternoon race.

My 12th place qualifying position put me outside row six, not in the most preferred location for the start on the back straight leading to turn seven. I started behind Joe Aquilante, the owner of Phoenix Performance who prepped my car and provided technical assistance all year and beside Reed Kryder, an IMSA GTU veteran driving David Pintaric's car.
As we approached the starters stand on the back straight, the rear of the field edged forward quickly but didn't get green and bunched up big time. The starter held green until we lined up and then dropped flag. I got a great start, but on the outside row had to go outside vice inside where I would've preferred to be. I pulled Reed who was beside me easily and swept past Joe A and Lance Knupp and tucked in behind Chris Ingle who started 8th. As we headed into turn seven under heavy braking, the field bunched up again. The row in front of me went into the turn three abreast, with Lance Knupp on the inside, Bob Schader in the middle, and Chris Ingle on the outside, with me two feet behind Chris' bumper. Joe Aquilante tucked inside of me under braking. Bob and Lance touched, and Bob bounced to the outside into Chris – right in front of me. Chris got knocked off the track as I was two feet behind him, but caught it and came back on, hitting Bob again in the process, and then looped it to the outside of turn 7. As I was stuck behind Chris wondering which way he would go and praying it is outside, Lance, Reed, Joe, Pete Looby and Bob Mayer snuck by me on the inside. As we came back to the left and up over the crest of turn eight, Bob Schader got sideways clipping Reed with his tail. Reed was knocked off track to the right. Bob spun on the track as a result of the contact. Pete Looby, stuck behind Bob, tried to tighten his turn and spun to the inside, but missed Bob. Lance, Bob Mayer, Joe and I somehow managed to sneak through the gap in the middle. Reed then came back on the track only to spin off to the left. Cars were flying everywhere! Seven days later and I was still dreaming about Vettes spinning in front of me.
As the dust settled and we headed into turn 10, part of my submarine brain is thinking, got three at the start, all three of those got back by in the mess, two that started behind me got in front of me, three that started ahead of me spun off, one that started behind me spun off… that's -3, +3, +2, -3, -1… adds up to 10th??? I was where I wanted to be after only two turns! The rest of my brain was thinking, ease towards full throttle into 10A, tighten to the left for a late apex, keep the power down, straighten the wheel over the top of the hill, let the car settle, turn into 10B, keep the power down, ease to the outside, straighten the car, brakes, brakes, brakes, ease onto the power into 11, straighten the wheel over the top at the apex, don't look at the wall, power, power, power… was I really in 10th already… brakes, brakes, brakes…
I followed Bob Mayer and Joe for one lap, but was being held up by them as the leaders opened distance. Pushing hard to position myself for a pass, I held third gear too long going coming out of turn one and bounced off the rev limiter. It was enough for Tom Lyons, three time NE Division Champion to sneak by under braking for the Keyhole – turn 4 and 5. Down to 11th. Not the direction I wanted to be going.
On lap three I passed Joe under braking for turn seven at the end of the back straight to regain the top 10. On lap five I passed Bob Mayer between turns 1 and 2 and Dave Roush dropped out with a broken front suspension. I moved up to 8th. On lap eight I re-passed Tom Lyons on the back straight. Up to 7th. On lap nine, Scotty White dropped out with a blown motor. Up to 6th.
Noticing the gap to 7th behind me is large and growing, I decided to back off, keep the car on the track, and finish the race. Definitely the decision of a 41 year old driving his own car on his own dollar (err… Mastercard's dollar).
The last 10 laps are uneventful as I cruise to a 6th placed finish.

What a week. What a race, and not a scratch on the car, which was a minor miracle!

I now have a beautifully prepared T1 Vette sitting in my garage, with seven regional wins, two national wins, one track record, and a 6th place finish at my first Runoffs in my back pocket. This from a guy who didn't have the time, money or talent to do anything but tow his car to the track every race and drive. Setup was so good, I was able to get by with my 10 year old daughter as head mechanic at every race.

Now to figure out how to pay for this for another year before I roll back onto sea duty and ports unknown…

How many months to race season?

* Goal four originally read:
4) Win SCCA Valvoline Championship in the Touring One class, upsetting the three time and reigning National champion, John Heinricy, who happens to be Chevrolet's Corvette Chief Test Driver, winning national acclaim and drawing the attention of Hugh Hefner who offers an invitation to the New Year's Eve Party at the Playboy Mansion.
But, after racing against John and few of the other "amateur" drivers in this class, I felt a top ten finish would be miracle enough...